Accreditation as a path to achieving universal quality health coverage
Globalization and Health
2014
10:68
Received: 8 April 2014
Accepted: 2 September 2014
Published: 17 October 2014
Abstract
As many low- and middle-income countries (LMICs) pursue health care reforms in order to achieve universal health coverage (UHC), development of national accreditation systems has become an increasingly common quality-enhancing strategy endorsed by payers, including Ministries of Health. This article describes the major considerations for health system leaders in developing and implementing a sustainable and successful national accreditation program, using the 20-year evolution of the Thai health care accreditation system as a model. The authors illustrate the interface between accreditation as a continuous quality improvement strategy, health insurance and other health financing schemes, and the overall goal of achieving universal health coverage.
Keywords
AccreditationUniversal health coverageQuality improvementLow and middle-income countriesHealth financing
Introduction
Many low- and middle-income countries (LMICs) are currently pursuing health care reforms to achieve universal health coverage (UHC); however, gaps in health care quality threaten this objective [1,2]. Despite serious resource limitations, there is a growing belief that strengthening health care quality in LMICs can have an important impact on the efficiency, security, and responsiveness of health services, as well as support expansion efforts towards the goal of achieving UHC [3,4]. A 2012 Salzburg Global Seminar convened health leaders from 33 countries to review experiences and identify priority challenges in ensuring healthcare quality and safety in LMICs. The Seminar developed a consensus statement that calls for governments to adopt and promote quality improvement as a cornerstone for better health for all citizens [5]. LMICs have thus rightly sought health systems reforms that not only improve health care coverage but also seek to improve the overall quality of health care services—something we refer to as "universal quality coverage" [6].
The Joint Learning Network (JLN) for Universal Health Coverage is an international consortium of countries implementing health financing reforms aimed at accelerating peer-to-peer knowledge and experience sharing [7]. Nine countries in Africa and Asia are members of the JLN network: Ghana, India, Indonesia, Kenya, Malaysia, Mali, Nigeria, the Philippines, and Vietnam. In 2011, the JLN established a health care quality track which published a summary of methods available to improve health care quality within UHC schemes, including accreditation [8] All nine of the JLN countries either have accreditation schemes or are developing them. At a JLN meeting in Bangkok, Thailand, in April 2013, representatives from all countries shared lessons learned from their accreditation efforts and issued a request for a concise policy document that would offer guidance to country-level decision makers regarding important technical questions that commonly surface.
This document supports future policy development and answers some of the recurrent questions often heard from policy makers, payers and health system leaders: how can accreditation create a culture of continuous quality improvement; what are the key technical choices within accreditation systems and what does the international evidence and experience recommend; what is the role of health care insurance in accreditation; and how can accreditation efforts be leveraged to guarantee basic services in poor and remote communities?
We take these questions in turn, and in each case we summarize the issues and provide the best evidence where possible as it may exist from international sources. There are four sources of information for this evidence: the presentations and proceedings of the April 2013 JLN conference in Bangkok; a review of the literature on accreditation, particularly as it references experience in LMICs; and grey literature and non-peer reviewed source information from leading advocacy and expert organizations like World Health Organization (WHO) and the International Society for Quality in Healthcare (ISQua). Finally, where the data from these other sources were limited, we supplement with the authors' own experiences from the field. Throughout this document we use ISQua's definition for accreditation: "A public recognition by a healthcare accreditation body of the achievement of accreditation standards by a health care organization, demonstrated through an independent external peer assessment of that organization's level of performance in relation to the standards" [9]. We also use the WHO's definition of UHC: "ensuring that all people can use the promotive, preventive, curative, rehabilitative and palliative health services they need, of sufficient quality to be effective, while also ensuring that the use of these services does not expose the user to financial hardship" [10].
Key technical areas of accreditation for consideration
Conclusion: realizing the promise of accreditation
The true goal of UHC schemes is to provide universal access to high-quality health care services. This "universal quality coverage" will only be realized if quality-enhancing mechanisms like accreditation can be successfully implemented in LMIC settings. To date, efforts to depict how UHC scheme will work have focused on three dimensions: expanding coverage, describing the benefits covered and financial risk protection that the coverage scheme offers. Descriptions of the quality of care that the coverage scheme offers has not been well addressed. We propose a new image moving from the model proposed in the WHO Report on UHC to the model shown in Figure
1
where coverage, benefits and financial risk protection are all represented as overlapping and expanding balloons. They reach outwards through gradations of quality of health services represented by the dashed lines towards the outer limit of high quality health care services.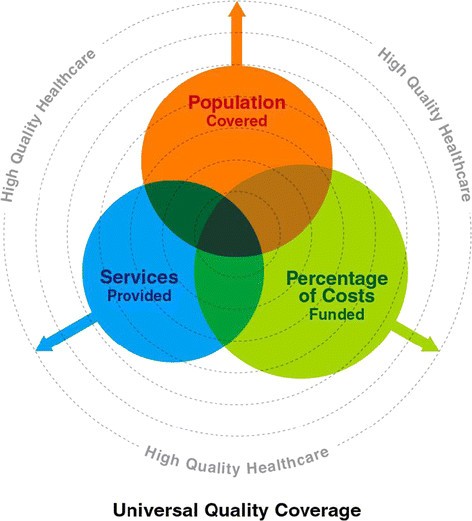 Accreditation is among the most important strategies LMICs utilize to improve quality of care. The guidance provided in this paper is intended to assist governments, health system planners, and decision makers to make useful investments in accreditation or other quality-enhancing strategies as they pursue UHC. No two countries will be alike and thus, the important choices described above will vary from one context to the next.
No matter what type of accreditation design is pursued, the results from the external peer-review process should be fed into a continuous improvement effort that allows institutions to remediate gaps in structures, processes and outcomes and to ensure that where patterns in health system defects are recognized (as in the antibiotic overuse example described above), national-level action can be taken to improve care.
Accreditation and health system financing for universal coverage have the potential to be particularly reinforcing if deployed correctly. At the most basic level, payers for UHC could reinforce accreditation standards by providing the needed financial incentives to institutions to seek accreditation. In turn, accreditation can provide payers with the independent third-party evaluation of health care quality that they need to make sound decisions about which institutions and professionals to include in their reimbursement schemes. (Figure
2
) On the other hand, lack of coordination between them will lead to confusion in the marketplace about which standards and protocols to follow, which measures or indicators to report, and which incentives to follow.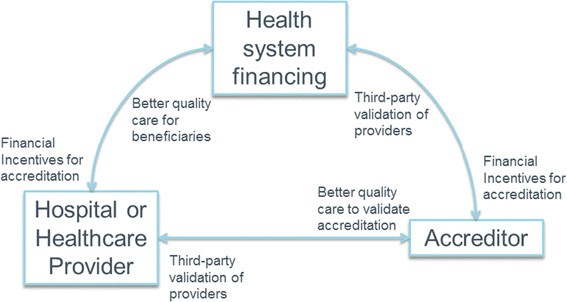 Achieving "universal quality coverage" will require alignment between government, payers and accreditors. There are many choices that opinion leaders, policy makers, and regulators face as they design health care systems to ensure high-quality service. This paper reviews some of the better practices that are available; however, much remains unknown about the role and ideal design of accreditation systems that will accelerate achievement of universal quality coverage. By identifying the gaps in our understanding, we hope to not only inform decision makers but also researchers interested in pursuing further study to help bring clarity to the field.
Author's contributions
KM and AR participated in the study design and analysis, carried out the research, and participated in the drafting and revision of the manuscript. AS and GG participated in the study design and analysis and participating in drafting sections of the manuscript. All authors read and approved the final manuscript.
Declarations
Acknowledgements
The authors would like to thank attendees at the Bangkok meeting for their contributions. Jane Roessner, Val Weber, Helen Smits, and Gina Lagomarsino provided invaluable advice, review, and contributions to this manuscript. Chris Rooney provided invaluable assistance to design of the figures and graphics. The Rockefeller Foundation provided funding for the Bangkok meeting described in the paper via a grant to the Institute for Healthcare Improvement.
Authors' Affiliations
(1)
Institute for Healthcare Improvement, Cambridge, USA
(2)
Healthcare Accreditation Institute, Bangkok, Thailand
(3)
National Accreditation Board for Hospitals and Healthcare Providers, New Delhi, India
Copyright
© Mate et al.; licensee BioMed Central Ltd. 2014
This article is published under license to BioMed Central Ltd. This is an Open Access article distributed under the terms of the Creative Commons Attribution License (http://creativecommons.org/licenses/by/4.0), which permits unrestricted use, distribution, and reproduction in any medium, provided the original work is properly credited. The Creative Commons Public Domain Dedication waiver (http://creativecommons.org/publicdomain/zero/1.0/) applies to the data made available in this article, unless otherwise stated.