Methods for medical device and equipment procurement and prioritization within low- and middle-income countries: findings of a systematic literature review
Globalization and Health
2017
13:59
Received: 13 January 2017
Accepted: 27 July 2017
Published: 18 August 2017
Abstract
Background
Forty to 70 % of medical devices and equipment in low- and middle-income countries are broken, unused or unfit for purpose; this impairs service delivery to patients and results in lost resources. Undiscerning procurement processes are at the heart of this issue.
We conducted a systematic review of the literature to August 2013 with no time or language restrictions to identify what product selection or prioritization methods are recommended or used for medical device and equipment procurement planning within low- and middle-income countries. We explore the factors/evidence-base proposed for consideration within such methods and identify prioritization criteria.
Results
We included 217 documents (corresponding to 250 texts) in the narrative synthesis. Of these 111 featured in the meta-summary. We identify experience and needs-based methods used to reach procurement decisions. Equipment costs (including maintenance) and health needs are the dominant issues considered. Extracted data suggest that procurement officials should prioritize devices with low- and middle-income country appropriate technical specifications – i.e. devices and equipment that can be used given available human resources, infrastructure and maintenance capacity.
Conclusion
Suboptimal device use is directly linked to incomplete costing and inadequate consideration of maintenance services and user training during procurement planning. Accurate estimation of life-cycle costing and careful consideration of device servicing are of crucial importance.
Keywords
Medical devicesPrioritizationResource allocationEquipmentHealth technology assessment
Background
The absence of safe, effective and well-functioning medical devices and equipment (MDEs) impairs health service provision, leads to poor patient outcomes and poses substantial health system and national security risks [1–3]. Nowhere has this been more evident than the recent Ebola Virus Disease outbreak in West Africa [4–6]. The absence of laboratory equipment to enable quick and accurate diagnosis, and personal protective equipment to ensure effective infection prevention and control measures and health worker safety, directly resulted in delays to emergency response, difficulties in care delivery and lost patient and health worker lives [6].
The absence of appropriate technologies impairs more than emergency care, however: routine services in maternal, child and reproductive care (e.g. immunizations or reproductive control), interventions for non-communicable (e.g. diabetes management) and communicable diseases (e.g. HIV/AIDS diagnosis) all require suitable infrastructure and functioning technologies. From basic products such as weighing scales and condoms, to glucometers and flow-cytometers, health service delivery is predicated upon the availability, appropriateness, affordability and acceptability of MDEs [1].
Estimates suggest that between 40 and 70% of MDEs in resource poor settings are broken, unused or unfit for purpose [7]. Indiscriminate procurement methods, a mismatch in technology design and demand, high costs as well as deployment, maintenance and human resource training challenges all contribute towards this issue [1]. Low- and middle-income countries (LMICs) particularly lack the regulatory authorities, or biomedical engineering capacity, to advise on what MDEs are suitable for use in harsh deployment settings: i.e. facilities with high temperature, fluctuating electricity or no clean water supply. The problem is compounded by a mismatch in MDE supply: manufacturers are located and attuned to users in lucrative high-income markets [8]. Installation, preventive and corrective maintenance services and user training programs are also traditionally absent in LMICs, leading to unsafe device handling practices with potentially harmful consequences for patients (e.g. in cases of misdiagnosis due to mis-calibration or infection propagation due to device re-use).
This paper targets one aspect of the above problem: MDE procurement and resource allocation in LMICs. To assist decision-makers in conducting informed and evidence-based product selection decisions, we have conducted a systematic review of internationally recommended methods for procurement planning and prioritization in settings experiencing severe resource constraints, describing the context for these activities and summarising normative recommendations. Little is known about how MDE procurement takes place within resource-constrained settings; the WHO Baseline Surveys on Medical Devices are recent attempts to explore this [9, 10]. The survey's findings suggest that LMICs predominantly conduct procurement at central ministry level within the public sector [9]; however, the surveys do not provide further granular information on how LMIC conduct or plan MDE procurement. For the purposes of this paper, we adopt the MDE definition laid out by the Global Harmonization Task Force and WHO [11, 12].
The identification of best practices and common pitfalls in MDE procurement may lead to improvements in MDE management and use. This would not only ensure improved use of scarce financial resources, but also translate to devices being operational and used competently for improved patient care. The systematic review is particularly timely given global efforts for health system strengthening in LMICs: MDEs are recognized as critical components in ensuring health system resilience to shocks and in achieving universal health coverage. Substantial increases in MDE utilization have already been noted in middle-income countries in Europe in line with expanding provision of health care services; similar trends will undoubtedly follow in LMICs globally [13].
We proceed to report the methods and findings of a systematic literature review of the LMIC relevant MDE literature aiming to explore the following research questions:
1.

Who are the key stakeholders engaged in procurement planning and what activities/interactions do they engage in?

2.

What methods inform procurement planning?

3.

What factors are considered in procurement planning?

4.

What factors affect successful deployment and use of MDEs?

5.

Where specific prioritisation algorithms exist to guide procurement, what criteria do said algorithms use?

6.

What are current recommendations for improving procurement?
Methods
A full account of methods is available in the study protocol [14].
Searches and study selection
We searched both bibliographic databases and grey literature up to August 2013 with no language or time restrictions imposed and selected documents according to pre-specified screening and eligibility criteria. Table
1
lists sources searched and Fig.
1
illustrates abstract selection criteria; Additional files
1
and
2
include details on the OVID MEDLINE search string and search and selection algorithm used.
Search type

Search sources

OVID Medline searched as per search algorithm detailed in protocol

Bibliographic databases

OVID Medline, OVID Embase, Cochrane Library, CEA Registry, HMIC, Econlit, VHL Portal (includes LILACS), African Index Medicus, NHS EED, Web of Science (including CPCI)

Key word searches

Website searches

TRIP, National Guideline Clearinghouse, Office of health economics International Guideline Library, CHEPA, CHE York

HTAi, CADTH, INAHTA

Organizational databases/websites

WHO e-health documentation centre and WHO website, UNICEF, UNAIDS

UNFPA, African development bank, Asian Development Bank, EBRD, World Bank, MSF, UNDP, UNFPA

National/regional donor or research agencies

DFID, MSH, AUSAID, GIZ, BMZ, JICA, SWISSAID, CIDA (Canada), DANIDA, AFD, ACORD, SIDA, IAC

Grey literature

ZETOC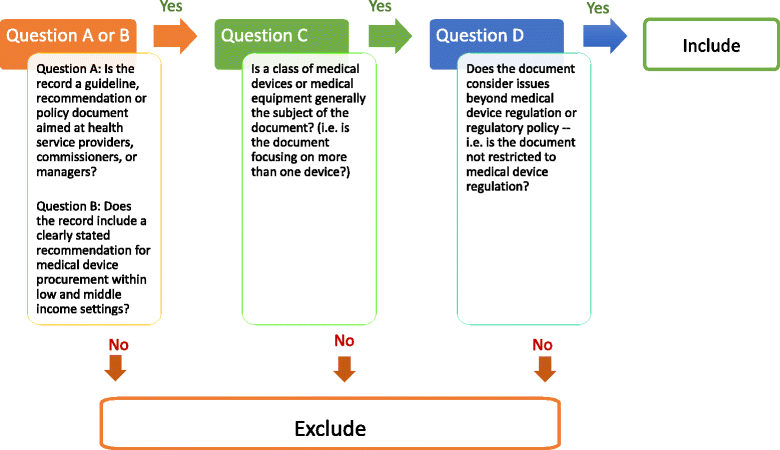 Searches retrieved documents referencing MDEs, LMICs and procurement. Two independent reviewers (KD and SB) screened titles for relevance, discarding documents not referencing MDEs. KD and MB further screened abstracts according to pre-specified inclusion/exclusion criteria (Fig. 1). We retained documents with explicit references to MDE procurement processes or procedures within LMICs and excluded material focusing on the procurement/evaluation of a single device or solely on LMIC medical technology regulatory issues. Disagreements on the inclusion/exclusion of studies involved consultation of a third reviewer (SB) and were resolved by consensus.
Data collection
One reviewer (KD or MB) extracted data on a pre-specified list of questions from all included documents. (See protocol) Questions related to: normative or descriptive accounts of MDE procurement and technology management processes; the relevance of health technology assessment exercises and health needs assessments in procurement; the input of health care professionals or specialist staff (e.g. biomedical engineers, economists) in procurement decisions; device installation, maintenance and decommissioning procedures/recommendations; health service delivery levels and clinical guideline procurement recommendations; budget impact, technology costs and intended national/regional coverage levels. We ascertained if documents included explicit accounts of MDE prioritization processes and extracted quotations or descriptions of processes for qualitative analysis.
Analysis
We employed two methods of analysis to summarize and interpret data extracted. (Additional file 2) Narrative synthesis was used to offer a summative and descriptive overview of all included documents for issues relevant to research questions posed [15]. Qualitative meta-summary was used to explore MDE prioritization for a subset of documents outlining explicit prioritization methods/processes. We iteratively applied descriptive codes to the extracted data and then grouped similar codes into categories and themes; effect sizes are calculated as per Sandelowski et al. and indicate the % of documents citing a specific theme. We explored emergent patterns and relationships between themes to arrive at summative findings [16].
Reporting
We follow PRISMA reporting guidelines as applicable – See Additional file 3 for a PRISMA checklist [14, 17].
Role of funding source
The funder of the study had no role in study design, data collection, analysis and interpretation or writing of the report. The corresponding authors have full access to all the data in the study and had final responsibility for the decision to submit for publication.
Discussion and conclusions
The current paper is the first review to systematically appraise and summarize the LMIC medical device procurement literature. We acknowledge some limitations. First, the LMIC MDE specific procurement literature is highly heterogeneous; our search and selection algorithms were therefore deliberately broad. The review thus provides not only a synthesis of the available literature but also serves as a hypothesis generating exercise meant to direct future research efforts and inform current procurement professionals of key recommendations in the global literature. Second, when appraising and synthesising information across texts, it was not always possible to distinguish descriptive and normative MDE procurement accounts: i.e. what happens in practice vs. what ought to happen. Despite this, we offer readers a structured account of the reported methods, factors and prioritization criteria considered for MDE procurement.
The heterogeneity of documents reviewed, specifically the diverse bibliographic literature (e.g. ranging from cost-effectiveness evaluations to guidance on the use of health technology assessments methods for procurement) and large proportion of grey literature included in this review, made assessments of the risk of bias impractical. We acknowledge this as a limitation and caution readers to reflect on findings carefully.
We acknowledge substantial difficulties in sourcing documents for full-text review. While we appraised several digitized abstracts, it was not always possible to locate ancillary digital full-text versions of documents of interest: while we are confident that these documents cannot be openly accessed, we were unable to assess any bias associated with availability. We additionally note that our findings reflect the state of the literature up to 2013. Further documents of relevance to MDE procurement have been published in recent years (e.g. [63, 64]), however to our knowledge, such documents represent updates or continuation of literature included here rather than research into the specific MDE procurement methods relevant for LMICs.
The comprehensive synthesis of information, as well as the granular pragmatic recommendations distilled across documents, are the principal strengths of this systematic review. In our narrative synthesis we identify two general methods for MDE procurement planning, which stakeholders appear to combine in practice: experience-based methods rely on the perceived success of previous purchase rounds; need-based methods instead identify current health needs and develop bespoke technology procurement plans to tackle these. Overall, we find no established consensus on how LMIC based MDE procurement should occur, but we note the literature converging on what evidence inputs and factors should be considered in decision-making.
The findings of the meta-summary echo previous work on the normative and feasibility criteria considered by decision makers in technology investment and prioritization [65–68]. In contrast to previous conclusions emphasizing the relevance of normative criteria, however, we note that MDE procurement is chiefly driven by feasibility concerns: i.e. as MDEs run the substantial risk of being unused due to technology misalignment to deployment settings, decision makers most value products with appropriate technical specifications and established maintenance services. We recommend further research be undertaken to support the development and validation of a unified set of criteria able to guide LMIC medical device and equipment procurement. Criteria identified within this paper may serve as a first draft of such a document. Further research may additionally explore differences between international and national guidelines on the topic, as well as national guidelines and sub-national practices.
Our findings further suggest that MDE procurement within LMICs presents substantial differences to technology procurement within HICs. While individual health facilities may have the capacity to directly tender in the latter settings, we have noted this practice is not consistent across LMICs. HICs further use health technology assessment agencies and health economic principles and methods to select technologies appropriate for reimbursement and advise on the containment of health care costs [69, 70]. In this review, only a fifth of documents reference such methods for MDE procurement. Difficulties in using such methods for LMICs are widely noted in the literature and have more recently been summarized in the 2015 Global Survey on Health Technology Assessment; political, cultural and specialist support for the use of such methods is lacking and the necessary data on local epidemiology, costs and treatment impact for LMICs is also scarce [71]. We contend, however, that such efforts are recommended for the development of transparent and rational procurement practices [68, 72, 73]. We developed a decision algorithm incorporating health economic methods that may be suitable for LICs with little specialist capacity elsewhere [74] and direct readers to further valuable resources on this topic [68, 73, 75].
Declarations
Acknowledgements
We thank Matthew Bentham (MB) and Samantha Burn (SB) for assistance in reviewing titles/abstracts for inclusion in the systematic review and help in data extraction. We also thank Susan Bayliss for her advice.
Funding
This study was supported by the EPSRC Multidisciplinary Assessment of Technology Centre for Healthcare (MATCH) programme (EPSRC Grant GR/S29874/01).
Authors' contributions
KD acted as first reviewer for the systematic review, collated and analysed all data, prepared a first draft of this paper which was revised with input from all co-authors. All authors were involved in systematic review design and refinement of the manuscript. The views expressed in this work do not necessarily reflect those of the funders or host academic institutions. All authors read and approved the final manuscript.
Ethics approval and consent to participate
Not applicable.
Consent for publication
Not applicable.
Competing interests
The authors declare that they have no competing interests.
Publisher's Note
Springer Nature remains neutral with regard to jurisdictional claims in published maps and institutional affiliations.
Open AccessThis article is distributed under the terms of the Creative Commons Attribution 4.0 International License (http://creativecommons.org/licenses/by/4.0/), which permits unrestricted use, distribution, and reproduction in any medium, provided you give appropriate credit to the original author(s) and the source, provide a link to the Creative Commons license, and indicate if changes were made. The Creative Commons Public Domain Dedication waiver (http://creativecommons.org/publicdomain/zero/1.0/) applies to the data made available in this article, unless otherwise stated.
Authors' Affiliations
(1)
Institute for Applied Health Research, University of Birmingham, Edgbaston, UK
(2)
Warwick Centre for Applied Health Research and Delivery, University of Warwick, Coventry, UK
(3)
Institute for Global Health and Development, Queen Margaret University, Edinburgh, UK
(4)
Medicins Sans Frontieres, Artsen Zonder Grenzen, Bruxelles, Belgium