Accelerating learning for pro-poor health markets
Globalization and Health
2014
10:54
Received: 2 May 2013
Accepted: 30 January 2014
Published: 24 June 2014
Abstract
Background
Given the rapid evolution of health markets, learning is key to promoting the identification and uptake of health market policies and practices that better serve the needs of the poor. However there are significant challenges to learning about health markets. We discuss the different forms that learning takes, from the development of codified scientific knowledge, through to experience-based learning, all in relationship to health markets.
Discussion
Notable challenges to learning in health markets include the difficulty of acquiring data from private health care providers, designing evaluations that capture the complex dynamics present within health markets and developing communities of practice that encompass the diverse actors present within health markets, and building trust and mutual understanding across these groups.
The paper proposes experimentation with country-specific market data platforms that can integrate relevant evidence from different data sources, and simultaneously exploring strategies to secure better information on private providers and health markets. Possible approaches to adapting evaluation designs so that they are better able to take account of different and changing contexts as well as producing real time findings are discussed. Finally capturing informal knowledge about health markets is key. Communities of practice that bridge different health market actors can help to share such experience-based knowledge and in so doing, may help to formalize it. More geographically-focused communities of practice are needed, and such communities may be supported by innovation brokers and/or be built around member-based organizations.
Summary
Strategic investments in and support to learning about health markets can address some of the challenges experienced to-date, and accelerate learning that supports health markets that serve the poor.
Keywords
Health care marketLearningDeveloping countries
Background
A health market consists of the set of interactions that occur between multiple health actors – such as health care providers, payors, regulators and service users – and the rules and regulations that govern their actions and interactions. Providers, payors and regulators may be either public or private entities operating either on a for-profit or on a not-for-profit basis. Health markets in low and middle income countries (LMICs) are currently experiencing extremely rapid change due to technological and organizational innovation, as well as political transformation [1]. For example, social franchising schemes that provide specific health services such as family planning services or TB care are expanding rapidly in countries [2, 3], and sometimes even crossing national borders. As governments roll out social health insurance schemes, private for-profit providers may be attracted into new health care markets by the increased ability of the population to afford health care [4]. The revolution in information and communications technology has provided opportunities to create networks across health care providers, sometimes linking informal health care providers with private telemedicine centers [5]. For many years the predominant focus of health systems research has been the public health care sector, accordingly evidence concerning what happens in the private sector is relatively weak. Now, change in health markets is occurring so rapidly that typically there is insufficient time (not to mention funding) to formally evaluate the effectiveness of new interventions.
This paper focuses on strategies for strengthening learning about health markets in the future. While from a business perspective a focus on the bottom line may be sufficient, from a public health perspective, more information is needed about how changes in the market affect people's access to quality health services. Such information would help governments and investors to promote good practices, and particularly those that improve access to care for the poor. There have been several recent efforts to promote the development of learning communities around health marketsa, however this paper argues that many gaps remain, and that further effort and resources need to be invested in learning about health markets.
Learning is a broad term, and we use it here advisedly. Learning can encompass the acquisition of knowledge or skills through experience, practice, study or taught courses and may take the form of individual learning, organizational learning or even learning across systems [
6
–
10
]. In recent years the health sector has seen a surge of interest in promoting the application of formal research evidence to decision making [
11
,
12
], but management specialists have focused more on the contribution of implicit and tacit evidence to learning and decision making [
13
]. Figure
1
unpacks the multiple forms of evidence and learning that are needed to promote strong and efficient health markets, from formal studies that seek to evaluate the effects of interventions, through more descriptive, empirical information that describes what is going on in health markets and hence why certain actions or interventions might be required, to more implicit or experience-based forms of learning.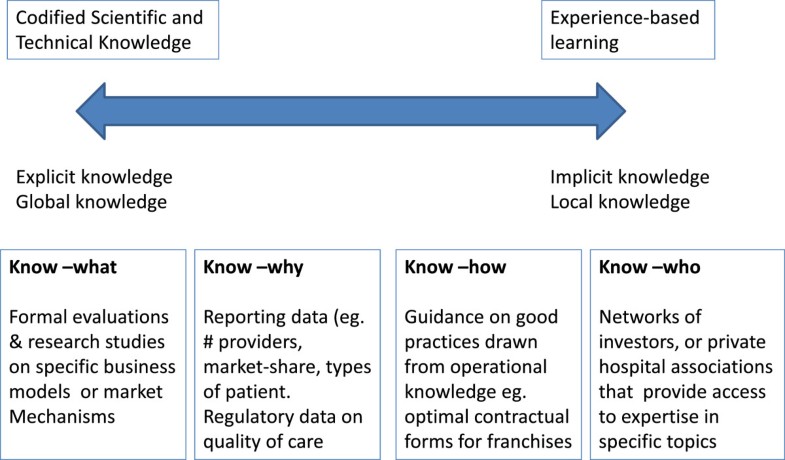 Given the dearth of previous literature concerning learning about health markets, we have purposefully maintained a broad focus in our paper. We aim to provide an overview of the landscape of health market learning, thus providing a foundation and stimulation for others to dig deeper into particular aspects. The paper proceeds by describing barriers to more effective learning about health markets and then identifies and elaborates two separate, but related strategies to address learning challenges. The first focuses on approaches to generating evidence and knowledge about health markets. The second considers mechanisms for supporting learning across different types of actors in health markets. Finally we conclude with practical recommendations about how to move the agenda forward.
Conclusions
Enhancing learning about the characteristics of health markets, and how interventions such as social franchising or regulation affect their operations, is key to better decision-making. Policy-makers, social entrepreneurs and the corporate sector all need better evidence regarding health markets. This paper has identified three broad areas where targeted investments could move the health market learning agenda forward.
First, a concerted initiative is needed to strengthen data platforms for health markets. Currently data regarding health markets is fragmented and rarely brought together in a comprehensive fashion. Using specific countries as pilots, existing information sources could be reviewed, relevant variables identified and collated in a health market data platform. Such a data platform could combine information from routine information systems, household surveys, facility surveys, expenditure tracking surveys, market research and demographic and health surveillance sites. Concurrent with this collation of existing information sources, new initiatives should be piloted that strive to strengthen market data availability: for example initiatives could seek to improve private provider participation in health information systems, or experiment with new ways to capture data on specific geographic health markets within a country.
Policies promoting universal health coverage constitute a significant opportunity to build understanding of health markets. There is a need to ensure that appropriate data collection systems are embedded within payor management information systems (for example the data collected through routine claims, accreditation, provider empanelment processes etc.) as such systems are established in low and middle income countries.
Second, new approaches and increased investment in rigorous evaluations of health market interventions are critical. Evaluations need to better reflect and have sharper tools for analyzing market contexts, including the broader market impact of specific interventions. They also need to be able to capture the evolution of market interventions over time, and enable more real-time learning from such interventions. While evaluation designs for specific business models (such as social franchising arrangements) are relatively well established, appropriate approaches to evaluating policies or regulations intended to shape the market environment and change organizational incentives require further development. According to good evaluation practice, evaluators should be somewhat separate from implementers, but there is also a need for strong communication between the two so that evaluation designs are responsive to the ongoing evidence needs of implementers, and so opportunities for important empirical research can be identified in advance to enable sound methodology. If greater investment in evaluation is to be made, then it may make sense to identify evaluation priorities and target investments to address specific questions.
Finally, communities of practice hold much promise in terms of helping practitioners to address challenges in policy implementation or business innovation. More geographically and thematically focused communities of practice are needed, especially ones that encompass diverse stakeholders. Regional "innovation brokers" may be able to facilitate and support the development of such communities of practice. Given how nascent our understanding of communities of practice is, it will be important to evaluate what works and what does not work with respect to such communities.
While this paper has focused on the challenges to learning in health markets, we are optimistic that investment to address these challenges and accelerate learning can ultimately bring about significant improvements in the functioning of health markets, especially for the poor.
Endnotes
aNotable examples include the Center for Health Market Innovation, HANSHEP, and the Private Sector Working Group of the SHOPS project. Other initiatives (such as HealthUnbound, the International Partnership for Innovative Health Care Delivery, Harmonization for Health In Africa and the UN Secretary General's Innovation Working Group for Every Woman, Every Child) have interests that overlap with health markets, even if it is not their core focus.
bThere are some ongoing studies of this nature for example BU faculty (with support from CHMI) are examining the impact on the market of the entry of the MedPlus Retail Pharmacy chain in Andrha Pradesh and what happens to price and quality in the non-chain pharmacies as a result of the new competition. In Bangladesh ICDDRB is working through the Future Health Systems Project to examine market dynamics around the introduction of a new m-health scheme.
cSee for example the Health and Wellness Reports of Euromonitor.
dSECI refers to the acronym for the different stages in the process of knowledge acquisition and formalization, namely: Socialization (where tacit knowledge is shared); Externalization (where tacit knowledge is converted into explicit knowledge); Combination (where different forms of formal knowledge come together) and Internalization (where individuals reflect and absorb the new developed knowledge).
Abbreviations
CGAP:

The Consultative Group to Assist the Poor
CHMI:

The Center for Health Market Innovations
GNP:

Gross National Product
LMIC:

Low and Middle Income Countries
NGO:

Non-governmental organization
NHA:

National Health Accounts
PETS:

Public Expenditure Tracking Survey
SECI:

Socialization, Externalization, Combination and Internalization
TB:

Tuberculosis.
Declarations
Acknowledgements
This paper was drafted with support from the Rockefeller Foundation under grant number 2011 THS 345, as well as support from the UK Department of International Development PO 5467, for the Future Health Systems Consortium. The authors gratefully acknowledge the comments and contributions made by participants in the Bellagio meeting on the Future of Health Markets, and would particularly like to thank Stefan Nachuk for his guidance to the Future Health Markets grant.
Authors' Affiliations
(1)
Johns Hopkins School of Public Health, Baltimore, USA
(2)
Results for Development, Washington, USA
(3)
Institute of Development Studies, University of Sussex, Brighton, UK
Copyright
© Bennett et al.; licensee BioMed Central Ltd. 2014
This article is published under license to BioMed Central Ltd. This is an Open Access article distributed under the terms of the Creative Commons Attribution License (http://creativecommons.org/licenses/by/2.0), which permits unrestricted use, distribution, and reproduction in any medium, provided the original work is properly credited.