Framing international trade and chronic disease
Globalization and Health
2011
7:21
Received: 23 March 2011
Accepted: 4 July 2011
Published: 4 July 2011
Abstract
There is an emerging evidence base that global trade is linked with the rise of chronic disease in many low and middle-income countries (LMICs). This linkage is associated, in part, with the global diffusion of unhealthy lifestyles and health damaging products posing a particular challenge to countries still facing high burdens of communicable disease. We developed a generic framework which depicts the determinants and pathways connecting global trade with chronic disease. We then applied this framework to three key risk factors for chronic disease: unhealthy diets, alcohol, and tobacco. This led to specific 'product pathways', which can be further refined and used by health policy-makers to engage with their country's trade policy-makers around health impacts of ongoing trade treaty negotiations, and by researchers to continue refining an evidence base on how global trade is affecting patterns of chronic disease. The prevention and treatment of chronic diseases is now rising on global policy agendas, highlighted by the UN Summit on Noncommunicable Diseases (September 2011). Briefs and declarations leading up to this Summit reference the role of globalization and trade in the spread of risk factors for these diseases, but emphasis is placed on interventions to change health behaviours and on voluntary corporate responsibility. The findings summarized in this article imply the need for a more concerted approach to regulate trade-related risk factors and thus more engagement between health and trade policy sectors within and between nations. An explicit recognition of the role of trade policies in the spread of noncommunicable disease risk factors should be a minimum outcome of the September 2011 Summit, with a commitment to ensure that future trade treaties do not increase such risks.
Keywords
European UnionForeign Direct InvestmentWorld Trade OrganizationTrade LiberalizationTrade Rule
Background
The nature and magnitude of the burden of chronic disease in low and middle-income countries (LMICs) is now well understood, as are its impacts on health systems and national economies [1–5]. What is less clear is how we should address chronic disease in LMICs, although doing so will require actions at both local and global levels [6]. At the global level, international trade, despite bringing potential health benefits through economic growth (a point we return to) is one of the major driving factors of a growing chronic disease burden. Trade's effects on chronic disease risk occur progressively along multiple pathways. It is the intent of this article to explicate those pathways, of particular importance given the high-level international attention now being directed to the global chronic disease burden.
Trade is not a new phenomenon: human societies have long histories of trade with each other and one might even describe barter and exchange as inherently human social qualities [7]. What is new is the volume of trade in goods and services, which has reached unprecedented levels over the past century; and the global scale at which trade now occurs. Also, the pattern of trade has morphed into an unequal playing field, where international trade rules tend to benefit disproportionately high-income countries [8–11]. The rise in global production chains, liberalization of global financial flows and stark inequalities in countries' political and bargaining power are at the heart of many of the contentions concerning contemporary global trade.
Health concerns associated with trade have been a feature of national and global policy debate since the establishment of the World Trade Organization (WTO) in 1995 and its extensive suite of trade treaties aimed at progressively liberalizing the cross border flow of goods, services and finance. Such concerns are far from new. Disease has long followed trade routes, from infectious pandemics of past eras to SARS in more recent times. The link between trade and infectious disease has been well documented [12–14]; and there is now an emerging evidence base that global trade is also linked with the rise of chronic disease in many LMICs. This linkage is associated, in part, with the global diffusion of unhealthy lifestyles and health damaging products [15], posing a particular challenge to countries still facing high burdens of communicable disease.
The existing literature on trade and chronic disease has tended to focus on certain health problems, such as diabetes and overnutrition [16, 17]. Lacking is an understanding of how such trade affects chronic disease more generally and through multiple pathways. To address this knowledge gap, we developed a generic framework which depicts the determinants and pathways connecting global trade with chronic disease. We then applied this framework to three key risk factors for chronic disease: unhealthy diets, alcohol, and tobacco. This led to specific 'product pathways', which we propose can be further refined and used by health policy-makers to engage with their country's trade policy-makers around health impacts of ongoing trade treaty negotiations, and by researchers to continue refining an evidence base on how global trade is affecting patterns of chronic disease. We focused our evidence gathering primarily on Latin America, sub Saharan Africa, and Asia, where the impact of international trade agreements in the global flow of these products has been subject of greatest health comment and concern.
Trade, chronicity and chronic disease
'Chronicity' has been proposed as an appropriate lens to address the complexities associated with rising burden of chronic diseases [18] and has been identified as the theme for this special issue. The concept of chronicity has conventionally been applied to understanding the nature of care of chronic diseases [19]. However, the term is also applicable to the causes of chronic diseases. Specifically, we view chronicity in two ways: first, as the post-1980s reconfiguration of globalization (particularly economic aspects of trade and investment liberalization following what has been characterized as neo-liberal economic principles)[20], which has led to the international transmission of risk factors for non-communicable disease; and second, as the durability of this model even in the face of multiple, and more recently global, financial crises. Trade-related global market integration has essentially made such disease risk factors 'communicable' (with food, tobacco and alcohol consumption serving as 'vectors'), blurring the conventional distinction between communicable and chronic diseases.
Policy space, policy capacity, trade treaty rules, and risks of chronic disease
'Policy space' is the term frequently used to describe "the freedom, scope, and mechanisms that governments have to choose, design and implement public policies to fulfill their aims" [[21], p.7]. Policy capacity refers to the fiscal ability of states to enact those policies or regulations, which depends upon their ability to capture sufficient revenue through taxation for this purpose. Both space and capacity can be affected by trade treaties. One concern with trade treaties is their 'behind the border' shrinking of policy space by prohibiting a range of 'trade-related' domestic regulatory options that could be used to promote healthy habits or, conversely, to restrict unhealthy ones. Although governments still retain substantial policy flexibilities within existing trade treaties, these flexibilities continue to be eroded through ongoing treaty negotiations, notably those associated with bilateral or regional trade treaties. Such treaties are exempt from the most favoured nation rule of WTO agreements under which trade terms between any WTO member nations must be given to all member nations. The exemption for bilateral and regional treaties allows for more favourable terms (usually with respect to market access) for countries that participate in them. Regional treaties hold the prospect for more equitable forms of trade amongst countries of similar size or development level [22]. However, such treaties, especially those with wealthier countries or trading blocs, such as the USA and EU, are often 'WTO+.' They include trade, services and finance liberalization commitments, protection of intellectual property rights and agreements on government procurement that go beyond those present in existing WTO trade treaties, and which can limit policy space to a much greater extent than WTO trade rules [22–24].
The primary purpose of all trade treaties is to reduce barriers to cross-border trade. One of the key principles underlying this purpose is non-discrimination: foreign goods or committed services covered by a trade treaty must be treated the same as the identical or 'like' domestic good or service. Another principle is national treatment. Internal tax and regulatory measures must be applied equally to imported and domestic goods or committed (scheduled) services in order to avoid trade disputes. To protect population health found to be in violation of trade agreements (the so-called health defense), governments have to prove that these policies are 'necessary.' Past and ongoing disputes over regulations governing tobacco imports and additives, and alcohol products, highlight the stringency with which this requirement is pursued [25]. Further limitations on the health defense include requirements that domestic regulations that could discriminate against foreign imports, even if treated no differently than national goods, must be based upon international standards or scientific risk assessments [7]. These trade principles constrain policy space. Policy capacity, in turn, refers to the resources states have to monitor or enforce regulations that they are able to promulgate. The issue of capacity is of considerable importance to LMICs, many of which have excellent laws 'on the books' but lack effective enforcement measures. The policy capacity trade issue is that liberalization requires progressive reductions in tariffs (border taxes). Developing countries rely more heavily upon tariffs for their tax revenue than do developed nations. Although developing countries are granted more latitude in retaining higher tariff levels, they are under considerable trade negotiation pressure to lock in and reduce their tariffs, in both multilateral WTO negotiations and notably in bilateral and regional trade treaties. In theory, developing country governments should be able to shift their tax bases from tariffs to sales or income taxes, assuming their economies grow with increased liberalization. In reality, many developing, and most low-income, countries subject to tariff reductions as conditions for loans from the international financial institutions (the World Bank and IMF) have been unable to do so [26, 27], partly as a result of inadequate institutions to implement alternate tax regimes [28]. For a majority of these countries there has been a net decline in overall public revenues [29] - a loss in policy capacity - with implications for spending in health, education or public regulations that can affect primary and secondary prevention of chronic disease.
Generic framework
Figure
1
provides a generic framework of the linkages between chronic disease and international trade. Trade can be broadly segmented into two categories: treaty, which includes bilateral, regional or multilateral under the World Trade Organization (WTO) and non-treaty, which includes both legal (but non-treaty) and illicit trade. Trade treaties can affect trade in goods in two main ways: increased trade in raw or finished products (depicted with solid arrow lines) and increased foreign investment in domestic production, manufacturing, and distribution (depicted with dotted arrow lines). Increased imports and domestic production result in increased domestic availability of a particular product. Greater quantity and availability, in turn, increases price competition (lower prices) and marketing and (generally) promotion of the product, both of which lead to increased product consumption. Increased consumption can have positive or negative consequences on chronic diseases depending on whether it is a health-promoting (e.g. nutritious food) or health-damaging (e.g. highly processed food) product. Increased foreign investment in a particular product can also lead to economic growth which, if adequately taxed, can contribute to revenues for health and other health-promoting social programs. However, if this product has harmful effects (e.g. tobacco) increased consumption is more likely to lead to poorer health outcomes, burdening health systems and offsetting any economic gains. Moreover, increased imports and foreign investment can displace domestic producers and manufacturers, which can reduce local revenues, food security (if local food crops are displaced) and increase dependency on foreign companies, making it more difficult to introduce regulations constraining their market growth or raising corporate taxes. Non-treaty trade in products has similar effects apart from legally binding constraints on a country's tariffs or domestic policies. Illicit trade is difficult to document for most products and therefore we do not discuss it in this paper.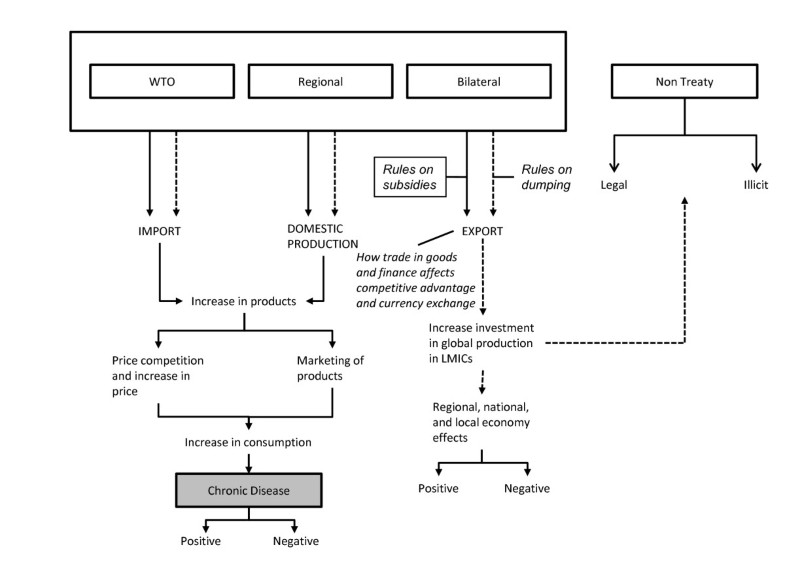 Specific pathway products
Conclusion
This article has reviewed extant evidence on the role that trade and financial liberalization has played in increasing the global diffusion of risk factors for chronic disease. The pathways by which trade can affect chronic disease are multiple. These pathways can be direct (increased exposure to harmful or potentially harmful commodities, notably tobacco, obesogenic foods and alcohol) and indirect (through changes in labour markets leading to economic and employment insecurity, associated with increased chronic disease risk). There is some potential for trade treaties to aid in reducing the global diffusion of risk factors, such as enforcing an end to domestic subsidies for agricultural exports harmful to health (e.g., sugars, fats, tobacco) or removal of tariffs on the import of drugs used to treat NCDs. However, as this article has elaborated, there remains considerable actual or potential health-harm in trade treaties when such treaties are driven by liberalization as the policy end and with only minimal regard to the health consequences.
This potential has been noticed in the run-up to the UN Summit on Noncommunicable Diseases taking place in September, 2011. A meeting of African health ministers in early April 2011 issued a declaration on NCDs stating, inter alia, that "although globalization, trade and urbanization are important in human development, they are also major external drivers responsible for widening health inequities within and between countries and populations" demanding "the integration of health in all policies across sectors in order to address NCD risk factors and determinants [113]." This declaration repeats a theme woven throughout the WHO's Global Status Report on Noncommunicable Diseases 2010, which noted that "the rapidly growing burden of NCDs in developing countries is not only accelerated by population ageing; it is also driven by the negative effects of globalization, for example, unfair trade and irresponsible marketing" [[114], p.33]. WHO Director-General, Margaret Chan, was even more forceful in her comments to the April, 2011 First Global Ministerial Conference on Health Lifestyles and Noncommunicable Disease Control convened in Moscow, regarded as an agenda-setting event for the September UN Summit:
Today, many of the threats to health that contribute to noncommunicable diseases come from corporations that are big, rich and powerful, driven by commercial interests, and far less friendly to health. ... Today, more than half of the world's population lives in an urban setting. Slums need corner food stores that sell fresh produce, not just packaged junk with a cheap price and a long shelf-life [115].
While not referencing trade per se, the outcomes Chan cites are logically and empirically linked to trade and the globalized food, tobacco and spirits industries. Yet, notwithstanding the exclusion of the tobacco industry from the Moscow Conference, many of these same globally trading corporations were present to participate in the Conference. Press reports of the Conference quote some of these corporate representatives complaining that companies are "unfairly blamed for consumer's choices" or that "the overfed are voluntarily overfed" [[116], p. 10], reinforcing a concern implicit in the Conference's emphasis on 'healthy lifestyles' that intervention strategies for NCD control could take the easy path of regulating individual health behaviours rather than corporate economic or social practices. Such practices are so far being addressed through calls for voluntary corporate social responsibility, despite (as one example) over 30 years of repeated non-compliance with the voluntary International Code of Marketing of Breastmilk Substitutes. Any reduction in non-compliance with this Code was largely a result of activist groups supporting governments to write Code requirements into their (enforceable) national legislation [117]. Worryingly, the declaration issued by the Moscow Conference makes no reference to globalization, trade or even to EU- and USA-led initiatives in bilateral or regional trade treaties to extend intellectual property rights (IPRs), which could impede access to drugs or diagnostics important to the treatment of NCDs. Indeed, there is little reference to IPRs in any of the expressed concerns about access to medicines in any of the advance commentaries leading up to the September UN Summit.
These lacunae in discussion of key global determinants of chronic disease prevention and treatment are surprising, given the evidence and argument advanced on such determinants issue in recent years. Whether the direct or indirect disease implications of global market integration enters seriously in discussions of global, regional and bilateral trade treaty negotiations remains a moot question. But the same applies to whether trade-related implications of chronic disease prevention and management will enter more forcefully into new global debates and plans to address the rising pandemic of these diseases. This article, in mapping some of what is known of the relationships between the two, hopefully will encourage constructive actions from both sides of the trade/health table. At minimum, we should expect explicit recognition of the globalization and trade-related dimension of the world's rising burden of chronic disease when nations meet to discuss plans of action later this year. Ideally, this should also look for commitments to ensure that trade negotiators take full account of the health impacts of the treaties they develop, with sufficient time and public disclosure of treaty elements for those in the public health community (governmental and civil society) to assess, analyze and respond.
Declarations
Acknowledgements
PAHO for financial support for the production of a technical report on trade and chronic disease from which this paper is adapted; and the anonymous reviewers for helpful comments on the initial submission. RLab is supported through the Canada Research Chairs program.
Authors' Affiliations
(1)
Institute of Population Health, University of Ottawa, Ottawa, Canada
(2)
University of Lethbridge, Lethbridge, Canada
Copyright
© Labonté et al; licensee BioMed Central Ltd. 2011
This article is published under license to BioMed Central Ltd. This is an Open Access article distributed under the terms of the Creative Commons Attribution License (http://creativecommons.org/licenses/by/2.0), which permits unrestricted use, distribution, and reproduction in any medium, provided the original work is properly cited.