Assessing the health impact of transnational corporations: a case study on McDonald's Australia
Globalization and Health
2017
13:7
Received: 10 November 2016
Accepted: 27 December 2016
Published: 6 February 2017
Abstract
Background
The practices of transnational corporations affect population health through production methods, shaping social determinants of health, or influencing the regulatory structures governing their activities. There has been limited research on community exposures to TNC policies and practices. Our pilot research used McDonald's Australia to test methods for assessing the health impacts of one TNC within Australia.
Methods
We adapted existing Health Impact Assessment methods to assess McDonald's activities. Data identifying potential impacts were sourced through document analysis, including McDonald's corporate literature; media analysis and semi-structured interviews. We commissioned a spatial and socioeconomic analysis of McDonald's restaurants in Australia through Geographic Information System technology. The data was mapped against a corporate health impact assessment framework which included McDonald's Australia's political and business practices; products and marketing; workforce, social, environmental and economic conditions; and consumers' health related behaviours.
Results
We identified both positive and detrimental aspects of McDonald's Australian operations across the scope of the CHIA framework. We found that McDonald's outlets were slightly more likely to be located in areas of lower socioeconomic status. McDonald's workplace conditions were found to be more favourable than those in many other countries which reflects compliance with Australian employment regulations. The breadth of findings revealed the need for governments to strengthen regulatory mechanisms that are conducive to health; the opportunity for McDonald's to augment their corporate social responsibility initiatives and bolster reputational endorsement; and civil society actors to inform their advocacy towards health and equity outcomes from TNC operations.
Conclusion
Our study indicates that undertaking a corporate health impact assessment is possible, with the different methods revealing sufficient information to realise that strong regulatory frameworks are need to help to avoid or to mediate negative health impacts.
Keywords
Food industryGlobalizationHealth equityTransnational corporations
Background
Introduction
The practices of transnational corporations (TNCs) affect population health through production methods, shaping social determinants of health, or influencing the regulatory structures governing their activities [1–3]. Described as 'the primary movers and shapers of the global economy' ([4] p. 177), with revenues now surpassing those of many national governments [5]; many TNCs wield increasing social, economic and political influence in the globalised market economy and within individual countries. TNCs can contribute to health inequities if health effects resulting from their products and practices have disproportionate adverse impacts on socially or economically disadvantaged populations; or if they provide greater health benefits to already better off groups [6]. In this paper, we test the applicability of a corporate health impact assessment (CHIA) framework to assess the health impacts of the operations of a transnational corporation (TNC) in one country.
Despite increasing recognition of the health implications arising from TNC practices [7], including in relation to non-communicable diseases (NCDs) [8], there has been a lack of focus on impact of community exposures to TNC policies and practices [9]. A growing body of research examines the practices of industry sectors; for example food and beverage [2, 7, 10], tobacco, pharmaceutical, and extractive industries [11–13]. Focussing on industry sectors can be instructive, but does not address the whole corporation as a 'foundational, social institution that affects health' ([7] p. 6). The corporation may be understood as a distal, macro-level social structure impacting population health. Reforms must address the entity as an institution, rather than by targeting only individual industries, corporations or products. This entails understanding the purpose of corporations and the historical factors granting these entities many of the rights of natural persons, or 'corporate personhood' [7, 14].
TNC influences on health
TNC products and operations can support improvements in population health. A social determinants of health perspective holds that government and private sector policies and practices shape people's cumulative exposure across the life course through social, economic, psychosocial and material pathways that protect health or cause disease [15]. This model explains how TNC operations can result in both positive and detrimental health impacts within a range of industry sectors including food and beverages, tobacco [11, 16], pharmaceuticals [17–19], and extractive industries [13, 20].
Positive impacts include TNC investment in host countries which can contribute to national economic growth and development through innovation, economies of scale, productivity gains, technology transfer, infrastructure provision, access to markets, and workforce capacity building [21]. Subsequent improvements in employment opportunities, working conditions, or access to education are likely to significantly benefit population health [22]. National taxation revenue from TNC operations potentially allows for expanded social or health services, or improved access to health-care technologies. Some TNCs are committed to corporate social responsibility (CSR) programs, whereby they assess their social, environmental or health impacts and benchmark these against their competitors (see, for example [23]). TNCs may also bolster shared value, or create economic value in a way that also creates value for society by addressing its needs and challenges [24]. This involves identifying and addressing social problems that intersect with business operations. Corporations may also attract skilled workers by demonstrating a level of ethical and environmental responsibility [25, 26].
Detrimental impacts from TNC products and operations in the fast food sector result from a range of issues arising from the acceleration of food science since the 1980s that has facilitated production of a wide range of cheap, palatable products [27]. At the same time, with economic globalisation, a number of studies implicate the growth of TNCs that manufacture, distribute and market these highly processed foods on a global scale, as a key factor driving the nutrition transition across many countries [10, 28, 29]. The evidence suggests that through their considerable market and political power these corporations can shape food systems in ways that alter the local availability, price, nutritional quality, desirability, and ultimately consumption of such foods [30–35]. Because highly processed foods tend to be energy dense and high in salt, fat and sugar, but low in micronutrients, their consumption has been linked to rising rates of obesity and NCDs globally [36, 37].
'Fast food' is easily prepared processed food served in snack bars and restaurants as a quick meal, or to be taken away. In 2016 McDonald's was the most valuable fast food brand in the world with an estimated brand value of about 88.65 billion U.S. dollars: the combined value of its main competitors Starbucks, Subway and KFC [38]. The availability of fast-food outlets and the price of fast food have been positively associated with obesity both nationally and globally [39–41]. Research also suggests a connection between childhood obesity and the location of fast food chain outlets; both in terms of proximity to schools and the level of outlet density [42].
Methods
Step 1: adapting HIA methods to assess TNC activity
Health impact assessment
HIA is a structured, action-oriented, and solution-focused approach for assessing and predicting positive and negative health impacts of policies, programs and projects. Conducting a HIA incorporates six steps: screening, scoping, identification, assessment, decision-making and recommendations, and evaluation and follow-up. HIA considers health effects within a population and identifies appropriate actions by which to manage them; including through the policy-making process [43]. HIAs have most commonly been applied to prospective assessment of impacts of upcoming policy or practice changes, but may be used retrospectively to analyse evidence on past events to help predict future impacts and to provide decision-making support.
Equity focused health impact assessment (EFHIA) is a particular form of HIA promoted by public health organisations internationally as a strategy to ensure that health equity is considered when developing policies, processes and plans [44, 45]. EFHIA identifies the different impacts on particular population groups and whether these are inequitable i.e. resulting from avoidable and preventable differences in social or economic conditions [46].
A Corporate Health Impact Assessment (CHIA) Framework (Fig.
1
) was developed to guide the process of adapting HIA methods to assess TNC activity [
47
]. It was devised during a meeting at the Rockefeller Foundation in Bellagio Italy in 2015, attended by 19 representatives from academia, the corporate sector, and civil society. A methodology had been lacking, and the meeting helped to identify ways to better understand and assess these health impacts on different communities [
48
].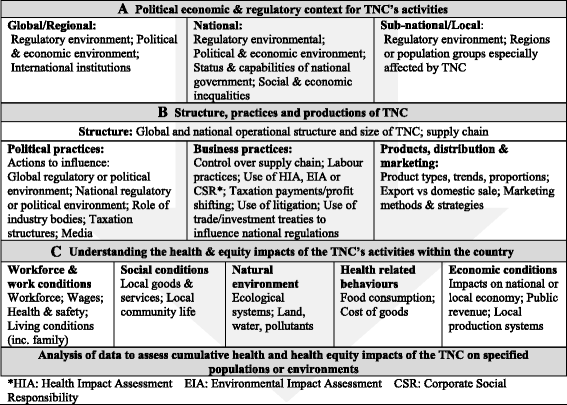 The methods for the CHIA were also informed by and adapted from those in another retrospective HIA [49]. As with our study, this work drew upon the views of those directly affected as well as from expert opinion. Our research is the first of which we are aware on a TNC.
Selecting the TNC for the pilot study
Criteria were developed for choosing which industry sector and (subsequently) which corporation to assess; including consideration of the attributable burden of disease and the broad economic and social conditions under which the industry operates. McDonald's [Australia] was selected as it is part of a large TNC serving greater levels of fast food than its combined competition [50]. This is facilitated by the level of marketing, incentives, and the suite of products including savoury and sweet products and sugary drinks. Importantly, McDonald's is also the world's largest franchisor, with more than 36,000 global outlets across 119 countries, and it employs 420,000 workers [51]. The pilot tested a range of methods with the aim to inform future research for assessing the health and health equity impacts of TNCs across a range of industry sectors and global and national contexts.
The identification of positive or negative health impacts of TNCs within the three parts of the CHIA framework has the potential to assist governments to devise appropriate regulatory mechanisms, and to provide corporations with insights for improving their corporate social responsibility, shared value commitments, and decision-making support. These issues are becoming increasingly important for corporate reputational endorsement and for benchmarking against competitors [52]. CHIA findings may also increase the evidence base for civil society actors and trade unions to inform their advocacy towards improving health and equity outcomes from TNC operations; by creating a demand for health-promoting regulatory and policy measures.
Step 2. identification of potential impacts: data collection
Factors known to have positive and negative impacts on physical and mental population health outcomes and a range of relevant information were gathered from a number of sources and mapped against the CHIA framework. Data included documents, corporate literature, media items, semi-structured interviews focusing on McDonald's Australian operations, and Geographic Information System (GIS) mapping [53]. During data collection some information was captured on other countries and McDonald's global operations which contextualised Australian practices.
Documents
Documents including articles, government and parliamentary papers, NGO reports, online petitions, media releases and websites were accessed. A search was conducted of the Flinders University library and Scopus databases using the search term 'McDonald's Australia' for the timeframe 2010–2015, and online searches using a wider range of search terms. These strategies sought to garner a broader range of material to add to that already gathered as part of a TNC literature review across several industry sectors. Ninety six items that included any relevant material for the CHIA framework were saved for review after employing the additional search terms. This broader review included material relating to McDonald's USA which reports on Australian operations; and for identifying civil society campaigns in different Australian states.
McDonald's Australia corporate literature
A search of McDonald's Australia's website and general web-related searches identified an additional 25 relevant items on McDonald's products and operations which were saved for review. These included comprehensive product nutrition and energy information, action plans on marketing to children, information on occupational health and safety, employment and training, franchising, corporate social responsibility and sustainability programs, and corporate philanthropy. Most corporate literature was available on McDonald's Australia's website. This was augmented by specific searches on McDonald's (USA) website to access annual reports and other Australian information which is not reported separately. This helped to put aspects of McDonald's Australia's operations into a global context.
Media items
To help identify the framing of news and media items relating to McDonald's Australia a search was conducted of the Proquest Australia and New Zealand Newsstand database for the timeframe 2010–2015, using the search term 'McDonald's Australia' limited to Australian media. This strategy sought to identify the scope and focus of interest on McDonald's operations in Australia as reported in the media; especially any references to health impacts. The search included all forms of available media and produced 452 items. Over 250 items were immediately discarded as they were either incidental references, of marginal interest, or were duplicated coverage across the wide range of media sources. Fifty nine items that could help inform the research and add to the wider literature were saved for further analysis.
Geographic information system technology
Expert advice was commissioned for a spatial and socioeconomic analysis of the more than 900 McDonald's restaurants. Australia has 2093 SA2s (second smallest spatial unit used by the Australian Bureau of Statistics) with an average population of 10,000 (range 3000–25,000). McDonald's restaurants were matched to their SA2s to calculate the number of persons per outlet. This augmented the limited literature offering health equity insights on McDonald's operations. Other evidence was provided in the form of economic statistics, maps and charts.
Semi- structured interviews
Interview participants were selected to gain diverse perspectives on McDonald's Australia's products and operations. Permission was sought from McDonald's Australia to interview six or more senior executives who could assist the research in areas of corporate social responsibility, sustainability, philanthropy, employment, and corporate communications, but participation was denied. Ethics approval was subsequently obtained to interview former McDonald's Australia executives and/or franchisees and current food industry executives to gain other business perspectives on McDonald's operations. Invitations to participate were also sent to civil society actors monitoring different aspects of McDonald's operations in Australia. These participants were identified by purposive and snowball sampling initially based on two high profile campaigns in South Australia and Victoria over recent years. Interview schedules were tailored to each interview cohort and were all designed to elicit responses in the areas of health impact identified in the CHIA framework.
All potential participants were emailed a personalised invitation, a Participant Information Sheet and Consent Form. Of the seventeen civil society participants approached eleven agreed to an interview and six did not respond. Seven of these eleven participants were currently, or had previously been involved in campaigns against proposed new McDonald's outlets in Victoria, South Australia and Western Australia. One respondent was a former local government official, one a medical specialist with an interest in combatting childhood obesity, and two were academics with interests in addressing obesity and diabetes. We have treated the views of these individual campaigners as valuable evidence, even if not derived from an organised base. However, these are views based on certain predicted impacts, rather than reporting actual, social, psychological and economic impacts resulting from new outlet developments.
Seven former McDonald's Australia executives and franchisees were approached via information in their LinkedIn profiles. One agreed to an interview, four declined and two did not respond. None of the six current food industry executives approached from two major industry sector groups agreed to participate. Five declined and one did not respond. All twelve interviews were conducted by telephone and transcribed by professional transcription services. Ethics approval to conduct the study was obtained from the Flinders University Social and Behavioural Research Ethics Committee (Project No.6785).
Step 3: assessment of impacts
The documents, media items and transcribed interviews were all imported into NVivo qualitative data analysis software and coded against the CHIA framework. The coding framework was structured to mirror the three sections identified in Fig. 1: the global political economy and regulatory context of TNC operations (level A); TNC global and national corporate structure, practices and products (level B); and areas of health impact nationally (level C) [47]. The five areas of identified health impact (level C) were coded for both positive and adverse health impacts.
Discussion
This paper set out to answer a question on the extent to which it is possible to document the health effects of a transnational corporation in one country, Australia, using a CHIA framework and McDonald's as the pilot. Actual and potential positive health outcomes are identified in McDonald's investment in high levels of employment and training, and its inclusive, non-discriminatory workplaces. McDonald's Australia's workforce conditions, bolstered by Australian employment regulations, guarantee a level of worker protection that remains unavailable in some other jurisdictions. McDonald's outlets also provide many opportunities for affordable social interaction; especially for people with fewer options. The corporation engages in CSR, shared value and philanthropic initiatives that provide public benefits.
However, there are potential negative health impacts from McDonald's ultra-processed food; its strategic industry alliances that facilitate corporate influence over food and advertising regulation; the loss of state revenue from its taxation strategies; and its health and environmental costs that are externalised to the community. Other detrimental impacts relate to the power disparity between McDonald's Australia and the local communities who oppose more fast food outlets. Although the corporation provides high level employment and training for younger age groups this is on lower wages and less secure conditions. It therefore reveals a mixed picture of employment in respect of the CHIA, and highlights a challenge for countries seeking increased employment opportunities, including for young people, without bearing the negative imposts from unhealthy food. On balance, positive impacts are outweighed by the negative impacts, including the potential contribution to high levels of obesity and chronic disease, the impacts of aggressive marketing to children and young people, and financial strategies resulting in a significant loss of revenue for health and social infrastructure.
The CHIA revealed regulatory shortcomings in respect of self-regulation governing advertising and marketing, especially to children and young people. It identified constraints in local planning in different Australian jurisdictions, and taxation structures that are enabling for McDonald's. The implications from findings at all levels of the CHIA are the need for rigorous national and supra-national policies [48]. Voluntary codes for TNC operations have little public accountability, are difficult to reinforce other than by negative publicity, and divert attention away from legal compliance [7]. Realistic policies will go beyond information and education to include fiscal and statutory constraints [27]. To mediate negative health impacts, different marketing approaches are also needed, food must be healthier, and efforts made to better address the corporation's environmental footprint.
One limitation of the research was the decision of McDonald's Australia and the industry sector to not participate in the interviews which would have provided more nuanced perspectives of the information included in their corporate literature. This is a challenge, and alternative strategies are needed; for example, having corporate actors on the research team with specified roles. While the refusal of McDonald's and other industry representatives to participate was limiting, it was still possible to gain a corporate view from publicly available sources. There are many evidence gaps on equity impacts, and social impacts that rely on the perceptions of local actors prior to new McDonald's outlets being established, even though these raise serious concerns. The research was designed to include a range of specific search terms. The use of an alternative strategy may have identified further information to support the postulated potential social impacts which are not verified in the data.
There are also a number of assumptions that have not been made explicit but underlie the structure of the study. Firstly, there are no clear links between consumption of McDonald's products, chronic disease, and obesity and other health problems, although this seems likely. There is also an assumption that most fast food is consumed through major chains with little attention to the role of the many local food fish and chip, pizza and hamburger shops that are often closer and more convenient for people; especially for those without cars. It must also be acknowledged that a large proportion of sugary drinks are purchased in supermarkets for home consumption; not only from fast food outlets.
The CHIA is not a regulatory tool that is required in order to act; there was no specific policy, proposal or decision point it was trying to influence. It was not a community led process, nor was it clearly an advocacy process but this seems to be its most likely use. This in turn meant that processes for engagement, governance structures, weighting of evidence and processes for managing conflict or disagreement did not need to be in place. The process issues of conducting potentially contested findings could not be addressed/explored.
The lessons we have learned about challenges for conducting a CHIA include recognising the need to study a TNC globally by exploring its operations internationally, nationally, and locally. This allows for comparing practices (e.g. wage levels) across different jurisdictions. We identified how important this is but recognise that it would require much larger budgets and major research grants. This pilot study confirmed the feasibility and usefulness of the CHIA framework in gathering and assessing impacts of TNCs on health in a structured and systematic way.
Conclusions
This paper demonstrates that it is possible to identify potential health impacts of policies, plans, projects and services related to TNCs; political economic and regulatory contexts for TNC's activities; the structure, practices and productions of TNCs; and understanding the health and equity impacts of the TNC's activities within the country. Our study indicates that undertaking a CHIA is possible, with the different methods revealing sufficient information to realise that strong regulatory frameworks are needed help to avoid or to mediate negative health impacts.
Abbreviations
AFGC:

Australian food and grocery council
BCA:

Business council of australia
CHIA:

Corporate health impact assessment
CSR:

Corporate social responsibility
EFHIA:

Equity focused health impact assessment
GDP:

Gross domestic product
GIS:

Geographic information system
HIA:

Health impact assessment
IMC:

Integrated marketing communication
IRSD:

Index of relative socio-economic advantage
LTIFR:

Lost time injury frequency rates
NCD:

Non-communicable disease
QSR:

Quick service restaurant
SA2:

Statistical area level 2
SEIFA:

Socioeconomic indexes for areas
Declarations
Acknowledgements
The authors thank Dr Lisel O'Dwyer for conducting a Spatial and Socioeconomic Analysis of McDonald's Restaurants in Australia.
The authors also thank the three anonymous reviewers who provided very helpful comments on this article.
Funding
Funding from a 2014 Flinders University Faculty of Health Sciences Seeding Grant (No. 29) contributed to this publication.
Availability of data and materials
The data sets supporting the conclusions of this article are included within the article.
Authors' contributions
FB led the design of the study and all authors contributed. JA conducted the interviews and undertook the document analysis. FB, MF and JA analysed the data. JA drafted the article and FB, MF, SF and EH critiqued the article drafts. Their comments discussed collectively by all authors were used to redraft the article. The final version has been approved by all authors.
Authors' information
Dr Julia Anaf is a Research Associate with the Southgate Institute for Health, Society and Equity at Flinders University. She is currently researching the intersection between transnational corporations and public health, and has co-authored two related peer-reviewed articles.
Professor Fran Baum AO is a Matthew Flinders Distinguished Professor of Public Health and Director of the Southgate Institute of Health, Society and Equity at Flinders University. Professor Baum is a Fellow of the Academy of the Social Sciences in Australia, and one of Australia's leading researchers on the social and economic determinants of health. In 2008 she was awarded a prestigious Australian Research Council Federation Fellowship focusing on development of effective government and community responses to social determinants of health inequity and social exclusion. She holds several other national competitive grants investigating aspects of health inequity, and has an extensive teaching career in public health.
Dr Matthew Fisher works as a Senior Research Fellow at the Southgate Institute for Health, Society and Equity at Flinders University. Currently he works full-time as a researcher on the NHMRC Centre of Research Excellence – Health Equity, a collaborative project involving researchers at Flinders University, ANU, University of Sydney, University of Ottawa, and partnering with the Lowitja Institute. His research focuses on questions of how to address social determinants of health and health equity more effectively in public policy. He has a particular interest in social impacts on chronic stress and mental illness, and their implications for public policy and political ethics. Matt completed a PhD in political philosophy at Adelaide University in 2010. Previously, he has worked as a policy and research officer in the community housing sector. He has a long-standing commitment to values of social justice and environmental sustainability.
Associate Professor Elizabeth Harris is Senior Research Fellow in the Centre for Primary Health Care and Equity. She is the foundation director of the Centre for Health Equity, Training Research and Evaluation (CHETRE) at Liverpool in south western Sydney from 2000 to 2011. Originally trained as a social worker and teacher, she has worked as a clinician, health service manager, tertiary educator and public health researcher. Her principle research interest is in better understanding and intervening to address health inequity. The specific foci of her work include unemployment and health, child health, interventions in disadvantaged communities and the promotion of healthy public policy especially through equity focused health impact assessment (HIA). She led the NSW Health HIA capacity building project for 5 years. She currently leads an Australian Primary Health Care Research Institute project on the usefulness of EFHIA in planning afterhours care by Medicare Locals. She is currently conducting several EFHIAs for the Sydney Local Health District. She is a chief investigator on the NHMRC funded project evaluating Health in All Policies.
Professor Sharon Friel is Director of the Regulatory Institutions Network (RegNet) and Professor of Health Equity, Australian National University. She is also Director of the Menzies Centre for Health Policy ANU. She is a Fellow of the Academy of Social Sciences Australia and an ANU Public Policy Fellow. In 2014 she was named by her international peers as one of the world's most influential female leaders in global health. She is the Co-Director of the NHMRC Centre for Research Excellence in the Social Determinants of Health Equity. In 2010 she was awarded an Australian Research Council Future Fellowship to investigate the interface between health equity, social determinants and climate change, based at the National Centre for Epidemiology and Population Health, ANU.
Competing interests
The authors declare they have no competing interests.
Consent for publication
Consent for publication was received from participants as part of the ethics approval process.
Ethics approval and consent to participate
This study was approved by the Flinders University Social and Behavioural Research Ethics Committee (Number 6785). The researchers obtained informed consent for participation from the interview participants as part of ethics approval. No identifying material has been included.
Open AccessThis article is distributed under the terms of the Creative Commons Attribution 4.0 International License (http://creativecommons.org/licenses/by/4.0/), which permits unrestricted use, distribution, and reproduction in any medium, provided you give appropriate credit to the original author(s) and the source, provide a link to the Creative Commons license, and indicate if changes were made. The Creative Commons Public Domain Dedication waiver (http://creativecommons.org/publicdomain/zero/1.0/) applies to the data made available in this article, unless otherwise stated.
Authors' Affiliations
(1)
Southgate Institute for Health, Society and Equity, Flinders University, Adelaide, Australia
(2)
Centre for Primary Health Care and Equity, University of New South Wales, Sydney,, Australia
(3)
Regulatory Institutions Network, The Australian National University, Canberra,, Australia